The invites surely have become a criteria for attending the ceremony especially when the guests receive more than one wedding invitations. Generally, it happens in wedding season, where people end up receiving three to four cards for same date. The guests also want to attend the best ceremony, so most of them decide on the basis of best looking card. In fact, a quality of a card speaks volume about the status of the family and the coming function. Here we are going to tell you how to select a stunning wedding invites online to generate enough curiosity in the heart of guests, so they eagerly look forward to be part of your wedding ceremony.
1.  Go for Theme Based Cards:
The trend of theme based cards is quite new India, choose theme of the card according to the theme of your wedding. The popular themes can be Heart Shaped Theme – is ideal if you are planning to get into wedlock in the month of February or going for a love marriage. Radha Krishna Theme Cards comes up as a classy choice for traditional Indian marriage. It is one of themes that is a beautiful blend of tradition as well as counterparty art. Peacock theme is another popular theme that blends with almost all kinds of nuptial.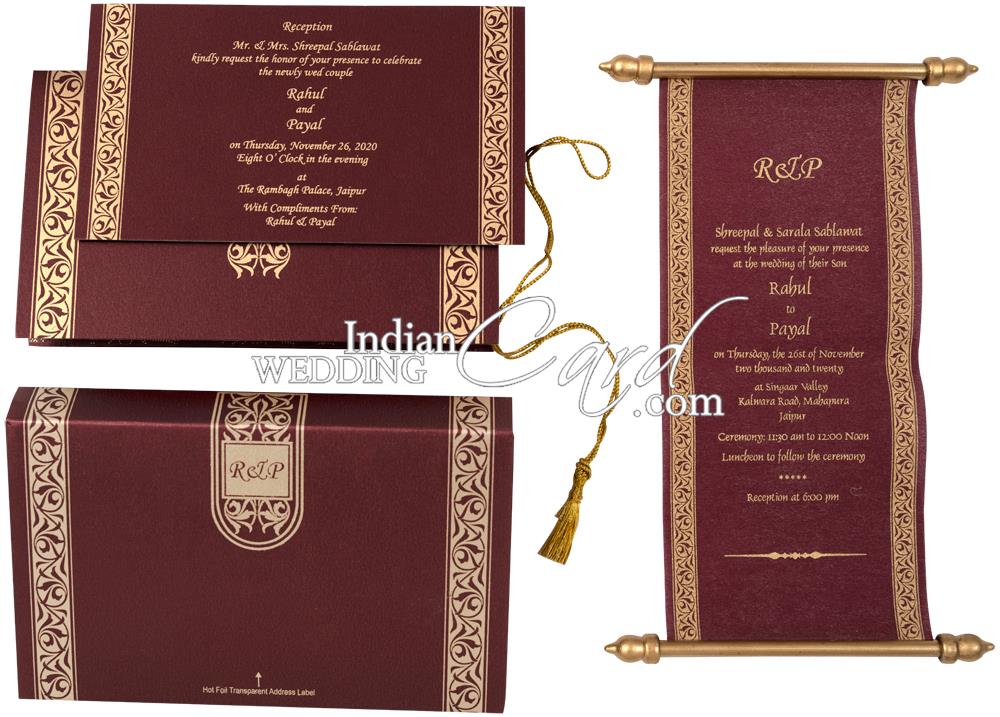 2.  Boxed Shaped Invitation:
How will you feel if you receive a wedding invite within a box of goodies? Surely, you are going to love it. It is the latest trend that is ruling the wedding invitation market. Celebrities like Shipla Shetty and Shahid Kapoor went for a Boxed Shaped Wedding Invitation Card to announce their wedding. Win heart of your guests by going for these kinds of unique wedding invite. In the box, you can place handmade cookies, chocolates or sweets with initials and wedding date written on it.
3.  Invites studded with Semi Precious Stones:
Wow, doesn't that sound amazing. Wedding invitation cards studded with semi precious stones is nothing less than a dream. Your guests will feel privileged to receive such card. They will proudly show it to everyone. Well, it won't be practically possible to send everyone such expensive cards. Here, you can act smart by sending it to near and dear family and friends.
4.  Photo Invite:
A beautiful photograph of Bride & Groom on the wedding invite simply looks stunning. It is a latest trend that will surely leave a favorable impression on your guests.  You can choose attractive layout and design for the photo Bride-Groom invitation card from the online wedding invitation card stores. The best part is that most of the stores provide free customization facility. The only thing you need to make sure is that you are choosing a stunning photograph to be printed on the invite. You can go for exclusive photo session or choose a lovely picture from the engagement or Sangeet Ceremony.
These are top four ways to have a stunning unique wedding invite that leaves a favorable impression on your wedding guests.