Wedding card selection is the best part of any wedding planning process. There is so much you can do when it comes to the perfect wedding invitation.
From the usual Hindu Shaadi cards for a traditional wedding, to a more generous and grand chocolate box invitation card, sky is the limit for best wedding invitation cards.
Here is a list of unique and upcoming invitation card trends to experiment with in 2019:
A Fun and Flirty Flap Card:
Bundling up all the different cards into one stationary suite is a story of yesteryears. 2019 is all about a single invitation page designed in a flap style. This way, your guests would not have to search through multiple sheets to read about a specific ceremony. Flap design cards are playful and also save paper. The flap must be lifted to reveal what is written behind it. It is a rather fun way of sending out invites.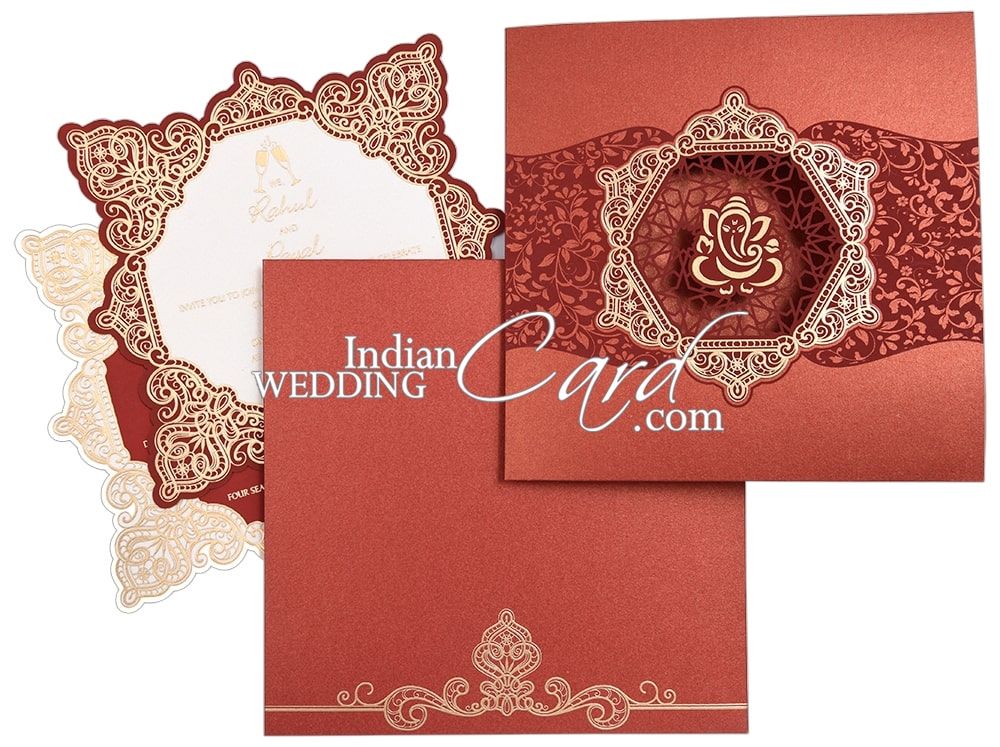 Pick The Pop Up:
Pop up designs were fun when we were children, and it is fun even now when we are adults. Adding a shadow effect not only lends a 3-D aesthetic attribute to your wedding invitation, but also makes it interesting and different.
A Playing Cards Themed Invitation:
For all the creative and quirky couples out there, invitations modeled around playing cards are definitely something to try out.
The regular playing card set is customized with all elements of the wedding. This innovative idea replaces the King & Queen with the Bride & Groom. On the other side of the "playing card" inserts, you can list out the function details.
Honest and Humorous Wedding Invites:
It is best to send this card to close friends and family who understand your sense of humor. Playfully worded cards reading "Man down," and "Doomsday has arrived" written in bold letters all over, is perfect to make your friends laugh and enthusiastically look forward to your wedding.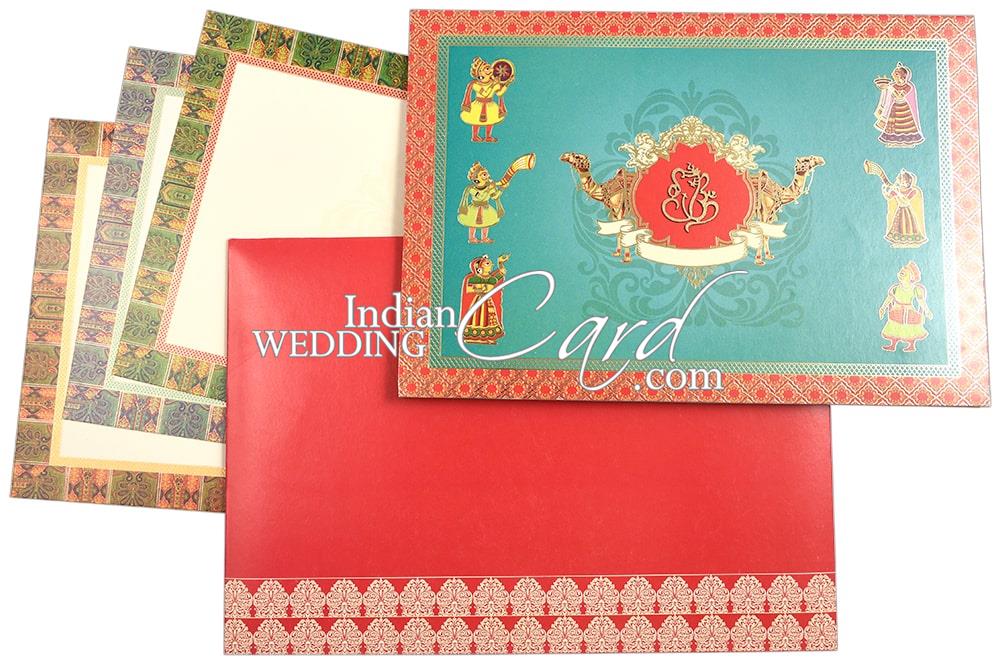 The Temple Inspired Design:
The temple theme inspired cards is quite the rage in Hindu Shaadi cards these days. Motifs of temple elements like temple frames, bells, peacocks, dancing girl murals, elephants, and Gods, look great on the right choice of deep hued backdrop.
An Indian-inspired font style and use of gold-tone text looks beautiful. You can always make it more distinctive with colorful stone embellishments.
Caricature Themed Invitation Cards:
Caricature cards are as fun and creative as can be. These add an element of light-heartedness to your invite. If you would like to drop the humor object, you can always opt for sketches of the bride and groom. These cute drawings look elegant when combined with other illustrations (like the couple enjoying a walk together, etc.), besides giving it a distinctive appeal.
Typography Wedding Invitation Cards:
In the world of embellishments, vibrant colors and eye-catching graphics, a big frame of typography can do wonders. Making your text the main element of your design can be done right with the perfect match of background and font style.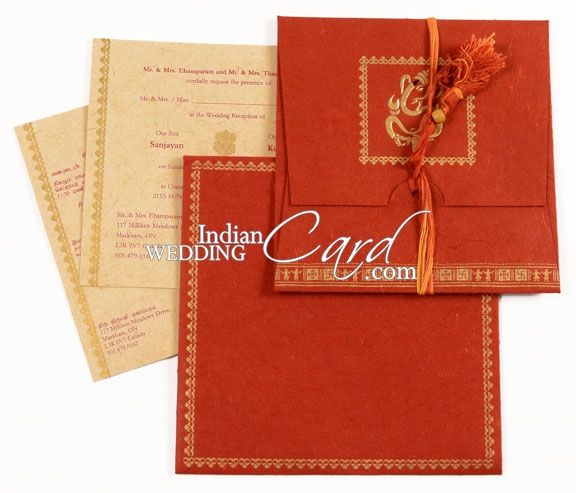 The Rustic yet Modern Invite to the Wedding:
You can use burlap, twine, and lace as ribbons, threads and inserts to give your wedding invites a rustic yet contemporary look.
The Pretty Peacock Cards:
Peacocks have been a recurring theme in Hindu Wedding cards. But now, they aren't used specifically to symbolize a particular community anymore.
The use of small peacock feathers over a card, or the use of peacock figure(s) heavily embellished with little stones, sequins and sparkles looks alluring.
The Destination Wedding Invitation Card:
It is a great idea to use the location of your wedding as the theme for your card. You can either give your guests a glimpse of what they can expect at your destination wedding by attaching location-specific elements to your invites, or you could recreate the entire wedding location on your card. Either way, it will prompt your guests to attend your wedding.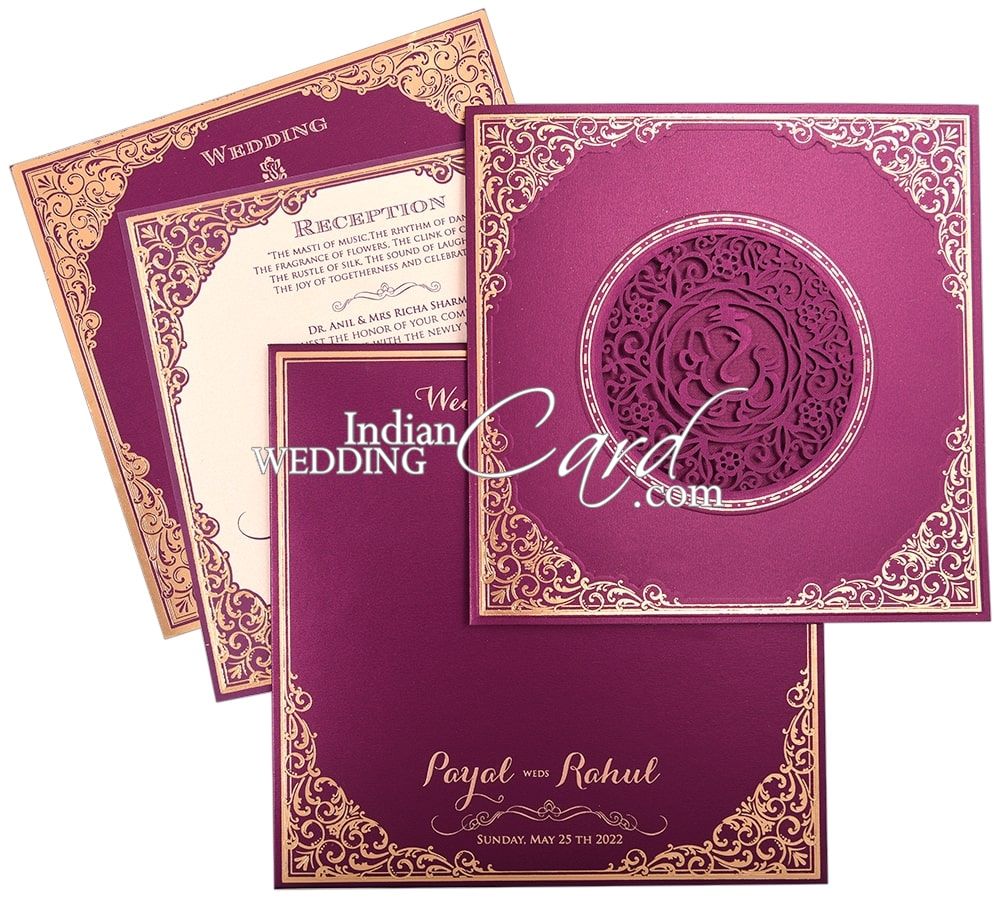 The Boarding Pass Invitation Card:
These work best for destination weddings. We agree that this is quite a common idea, but you can still make it unique with unconventional wording and layout.
Clear Acrylic Wedding Cards:
2018 was a major year for the acrylic card trend in Indian weddings, and 2019 is expected to be the same. Clear acrylic can be used as elegant inserts in your invitation suite.
You can also mix and match the elements from multiple cards under different themes to start a completely new wedding invitation trend of your own. What about mixing the Ganesha from Hindu Shaadi cards with a rustic themed invite? Now that is something to look forward to.