Every wedding symbolizes and showcases the unique elements of the community it represents. Muslim weddings are just as special and beautiful as any other. From themes and colors, to rituals and the Muslim Shadi Card, every aspect of the wedding praises their uniqueness as a community.
A Symbol of Strong Religious Sentiments:
Religious values and beliefs hold a special place in Muslim weddings and the way everything is carried out. Their holy book, the Quran, mentions how a proper Muslim wedding should be carried out. In the holy Quran, a marriage symbolizes the mutual agreement between two families that share similar social status and traditional ethos. This meaningful relationship is forged on a strong foundation of religious rituals and customs, aimed at a new beginning for the couple that will be spending the rest of their lives in holy matrimony based on mutual respect and love.
In the Muslim community, a wedding ceremony is referred to "Walima" or "Nikah." There are other colorful ceremonies such as the Mahr, Mehendikiraat, Imam-e-Zamin, etc. that make the entire wedding process an amazing experience in itself.
Every ritual is sacred and has a special significance. The marriage events are usually divided into three parts: the pre-marriage ceremony, the main matrimonial event, and the post-marriage rituals.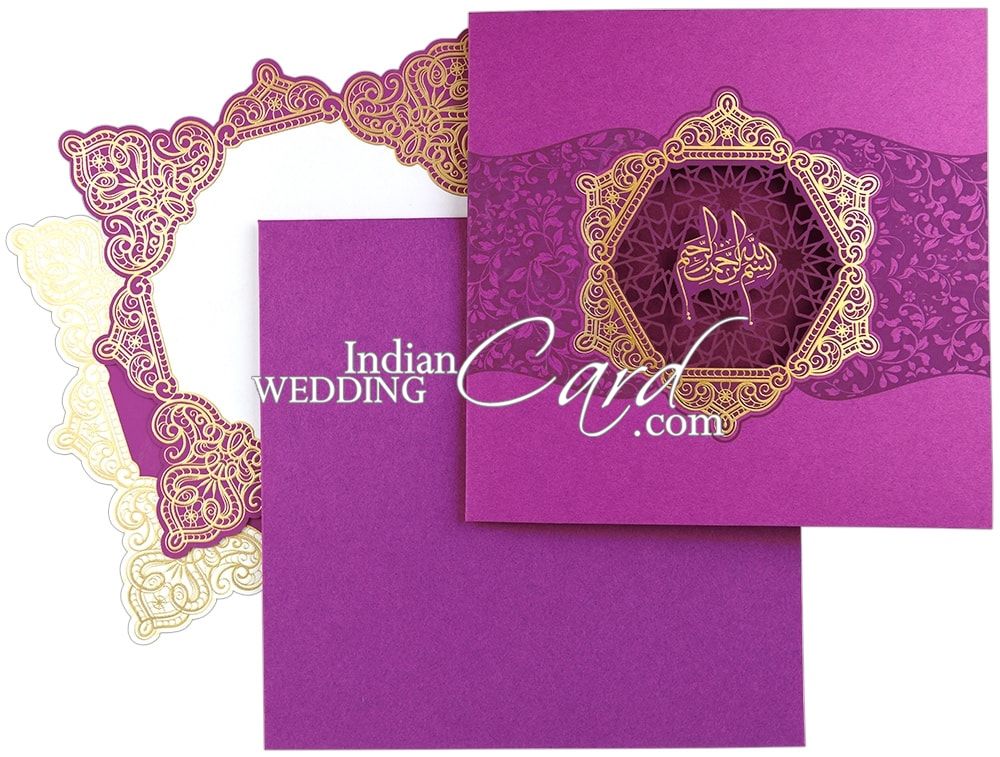 Importance of Guests in a Muslim Shadi:
Guests are an important part of any Muslim wedding ceremony. The invitation and presence of guests at a wedding holds religious significance in this ceremony for the followers of this community. The presence of the guest makes the big day more memorable and adds grace to the customs and rituals. Because guests are given such significant value, it is inevitable to invite them with the most alluring designs of invitation cards possible.
The rule for selection of any wedding invitation card is universal, irrespective of the community, status, ethnicity and values. First and foremost, the invites should match the theme of the wedding.
Muslim Shadi Card Inspirations:
Muslim wedding invitations are also called Nikah and Walima cards. These cards usually carry religious symbols and designs to portray Islamic traditions of the Nikah.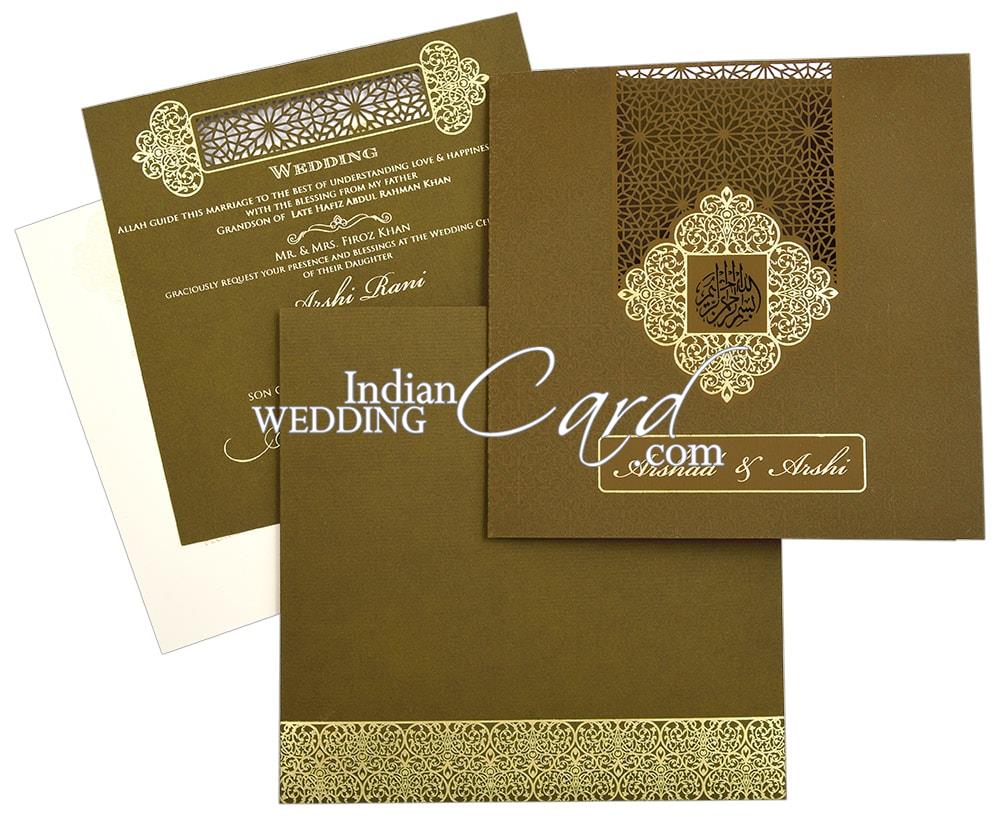 Here are some of the signature Muslim Wedding Invitation Cards you can pick from for your big day:
The Royal Themed Invitation Card:
A royal themed wedding card with deep colors highlighted with gold or silver tones is a great idea for a wedding card.The right choice of glossy paper or fabric, intricate motifs and the use of rich embellishments can up the bar on your nikah card. Use of peacocks, elephants and Mughal miniature art are also great trends to incorporate in your royal theme card.
The Traditional Design:
A nikah is rooted deep in tradition, where the vows exchanged are truly special. If you are more of a traditional couple, then you cannot go wrong with traditional walima & nikah cards showcasing age-old Persian and Islamic styles and symbols.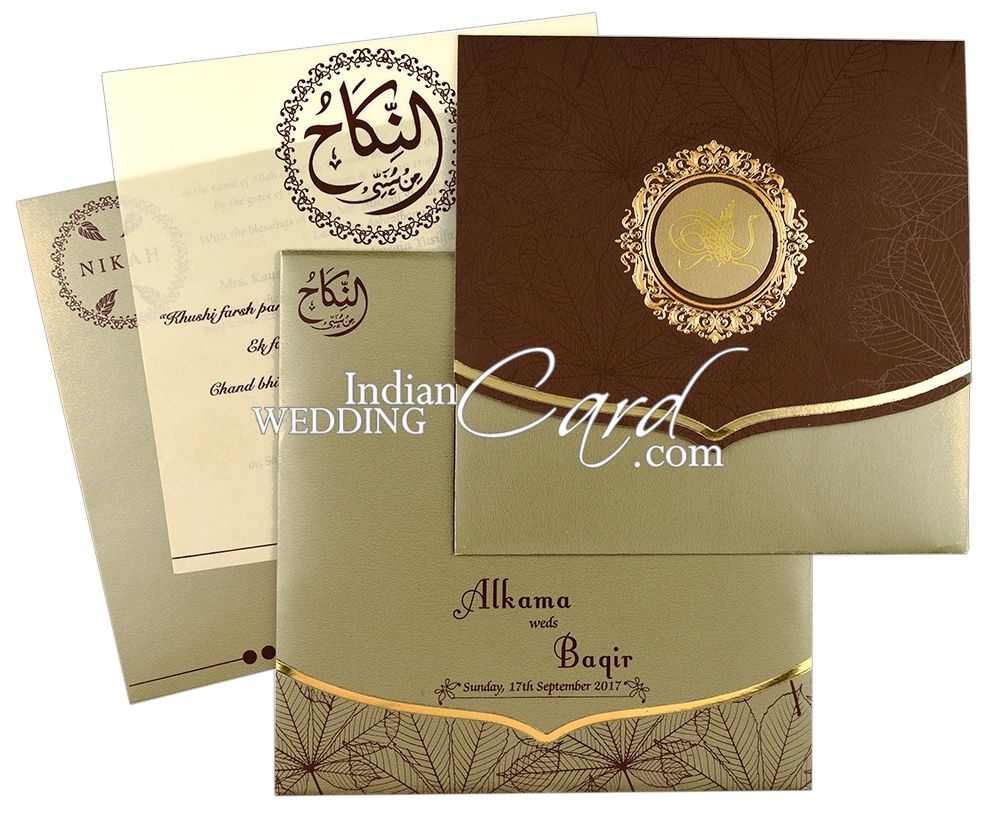 The Hardcover book and box design cards:
These designer cards resemble a light-weighted and small coffee table book, and are a total craze these days. If your wedding invitation is a stationary suite with other cards including the thank you cards, RSVP cards, etc. stacked up as a bundle, the hardcover book and box design will be ideal for you.
Personalized E-Cards:
Gone are the days when your only option to invite guests to your wedding was through a physical wedding invitation. Thanks to technology, you can electronically mail a digitalized version of your Muslim Shadi card to anyone you wish. There are many companies that offer e-card services. It is always best to research thoroughly and only then decide on any service provider.