We human beings have always given importance and also shown respect to old traditions and values some of which we have carried forward in the same essence or with some modifications. The ingenious human mind have always found ways to give the things from the past a new form and make it one of the raving fashion statements laced with style and panache so unique that it showcases original and novel experience. Such is the case with Scroll Wedding Invitation Cards which remind one of the bygone days of kings and queens who made use of these scrolls for multiple uses.
All sort of messages were sent across through these stylishly royal scrolls with an aura which showcased the majestic lifestyle of yesteryears. Keeping the same spirit alive, modern designers created the look for the wedding invites which are amazingly popular with people who wish to do things in their own unique style.
Scroll Wedding Invitations create an immediate impression of exclusiveness along with beauty unmatched which no other wedding invites can do so perfectly. Undoubtedly, these finely made scrolls in vibrant or subtle colours with a calligraphic font in gold or silver leave an everlasting impression on those who appreciate the host's aesthetic sense and indelible taste which these cards exhibit so well. It is not wrongly said that a thing of beauty is a joy forever and these scroll invitations fully justify this adage as they have never failed to impress or give joy to those who receive these unparallel ensemble of exquisiteness wrapped in traditionally rich yet trendily in sync with modern era.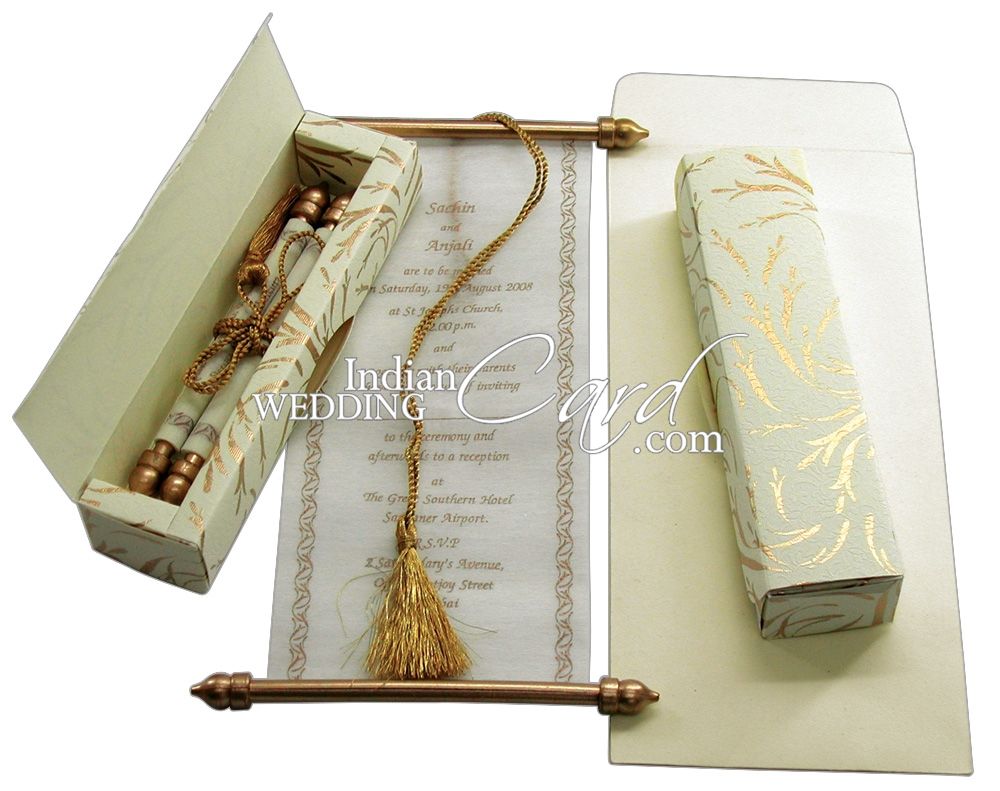 This is so amazing that these beautifully handcrafted cards become the favourite of anyone who sets his or her eyes on it. They leave no scope for looking any further because they have an unusual enigma to make them be on the top in the present favourite cards' list.
Some card designers have it in them to deliver more than expected and create the most fascinating invitation cards. Be it the simple ones without much fancy or the vibrant and flamboyant ones which catch the eye and attract the attention for their richness goes deeper into the heart of everyone. Indian Wedding Card has been doing this for years: creating invites which speak volumes of their high standards of finesse and which has always given its customers something which they desired or dreamed of.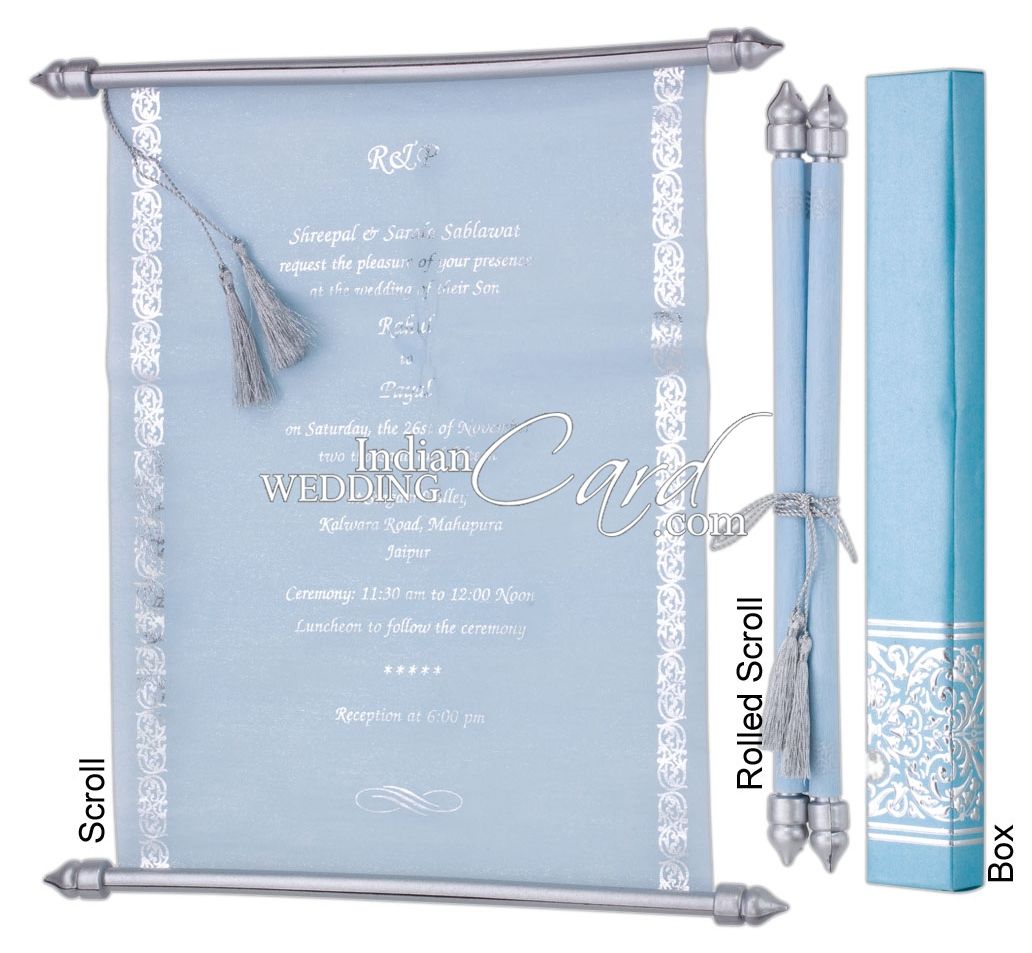 We at Indian Wedding Card create the most alluring scroll wedding cards which are available with or without the box. These scrolls are created out of variety of paper as per the customers' requirements, taste and choice. We customise the size, shape and design to make it more personal experience for our clients. We have our paper manufacturing unit which adds to the advantage as we cater for any and every variety of paper in any colour to match your mood, style or the theme of the wedding.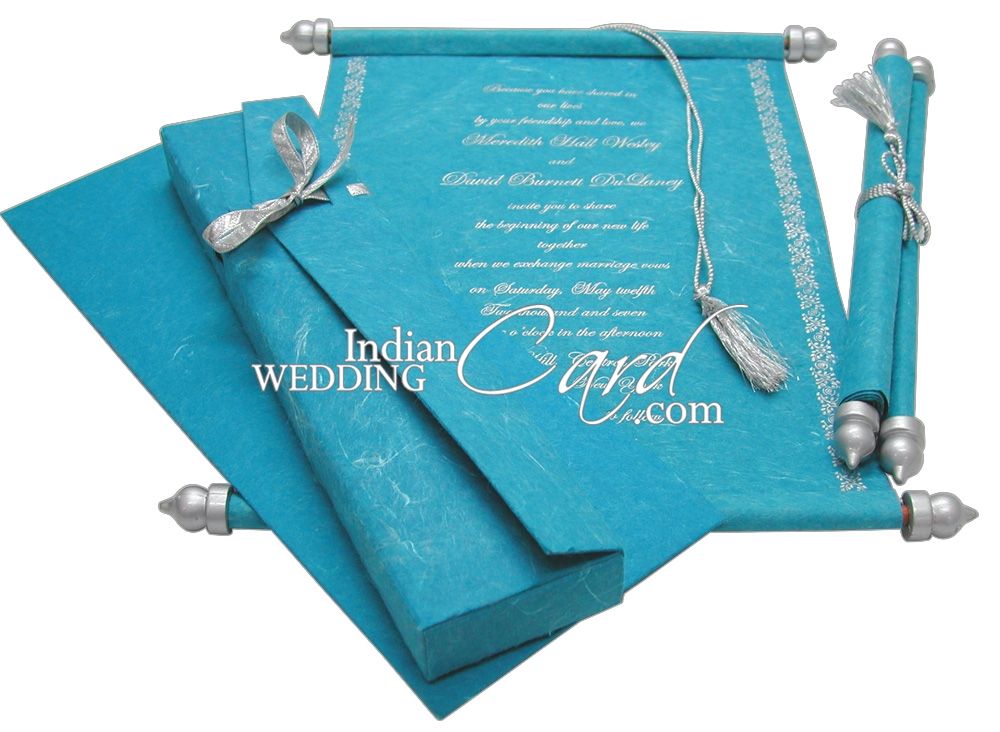 Our scroll cards are one of the most favourite ones with our clients which they claim have given their function an extra edge over others. For us, it is of great importance that we contribute in making your wedding a special affair.
Visit us and order your free sample today.