'Marriages are fixed in heaven' – that's a quite popular phrase. But everything else has to be prepared here, on earth. From making the guest list to finalizing the venue, music, and food, everything needs to be taken proper care of. One such important part of wedding preparations is – selecting the wedding card.
Indian Wedding Invitation cards are of immense significance. One reason would be the importance of guest in the Indian culture – Atithi Devo Bhava meaning guest is equivalent to god.
In various traditions like Hindu marriages, wedding invite is first presented in front of God. In some parts of South India, the wedding card is first sent to the parents of your spouse-to-be.
The design and style of your wedding card is a direct reflection of your culture. You can find stark differences between a Muslim wedding card and a Hindu wedding card. There are cross-regional differences also like differences in wedding card of Rajasthan and Gujarat.
No matter what culture you are from, choosing a wedding card, can be laborious. With a wide variety of wedding cards available – box cards, theme wedding cards, scroll invitations, etc.; making a choice can be difficult. Our personal favorite amongst these is theme invitation card.
Let's look at the different theme invitation cards for your wedding.
Types of wedding theme invitation cards
1# Exotic peacock theme wedding invitation card :
Peacock theme symbolizes vision, spirituality, royalty, guidance, protection, and watchfulness. In Hinduism, the peacock has a religious significance as it is associated with Goddess Lakshmi. Lakshmi represents kindness, patience, and luck. The feathers are meant to protect the receiver from accidents, diseases, and other adversities. So, a peacock theme wedding invitation card will be a manifestation of good luck.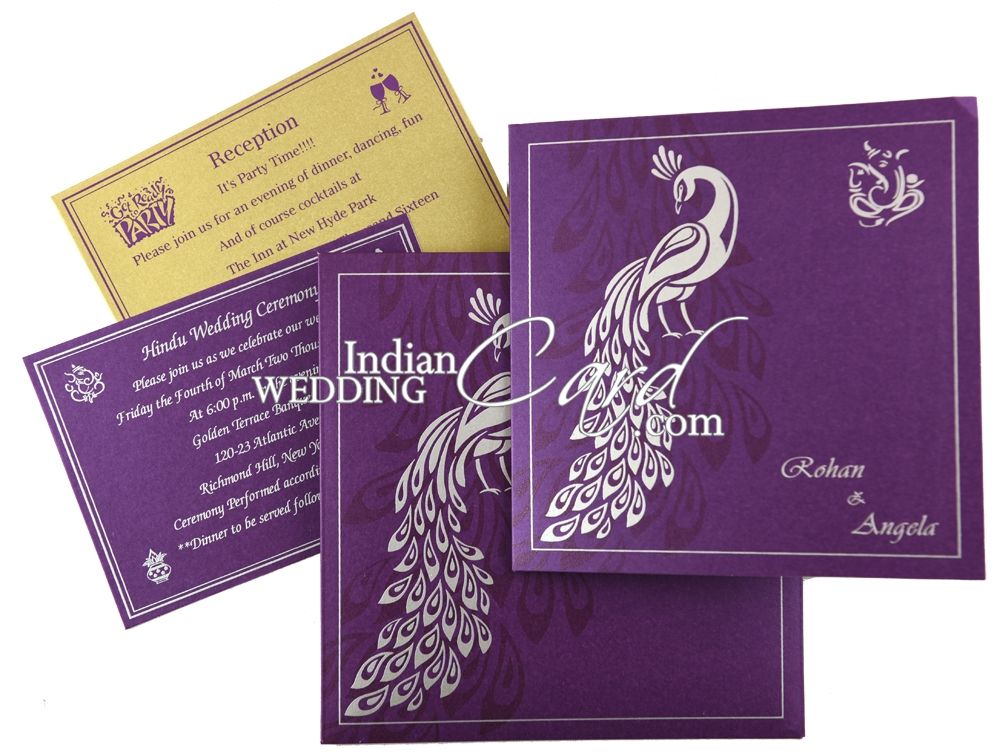 2# Bride-groom theme wedding invitation card:
If you believe in personalization, this theme-based card is for you. Bride and groom wedding invitation adds a personal touch to your wedding invite. It can turn into your lifetime cherished memory. You can either go with a regular invite or even customize cards to fit your particular style and taste. What else? You can also include some value adds like a thank you card, a sweet box or a money envelope. For a perfect finish, go for silk screen printing with any dark color.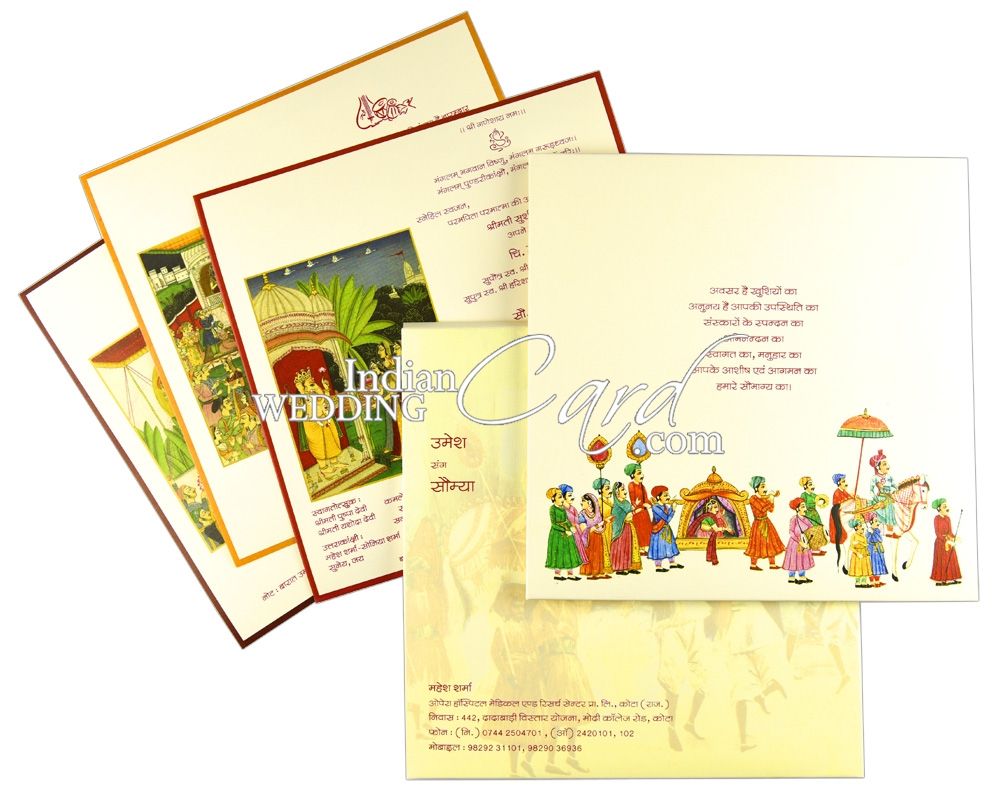 3# DIY Fabric Cards for adding style to your wedding invite:
Fabric cards are again an example of adding personal touch and style to your wedding invite. Fabric coated cards look more elegant and soft to touch as compared to the regular cards. You can select from a wide variety of fabrics available. Mostly, people go for velvet or satin fabric as they are very soft and light. You can also choose your favorite color from a wide variety of fabric wedding invitation card designs.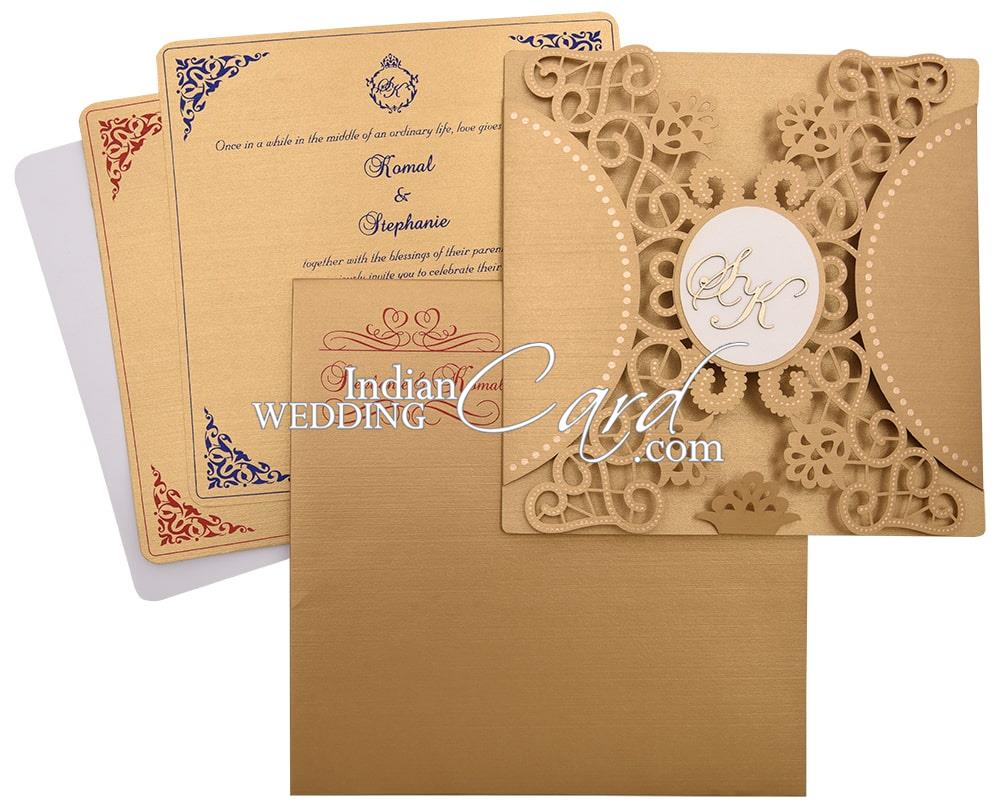 4# Beautiful flower theme wedding cards:
Flowers always carry the essence of beauty with them. They symbolize freshness. When you send flowers to somebody, you already give them a mood-lift, thanks to their sweet fragrance. Flower themed cards are quite distinctive and add to the style. A wide variety of designs further helps you pick the perfect one based on your taste and preference. They also stand out due to their vibrant colors.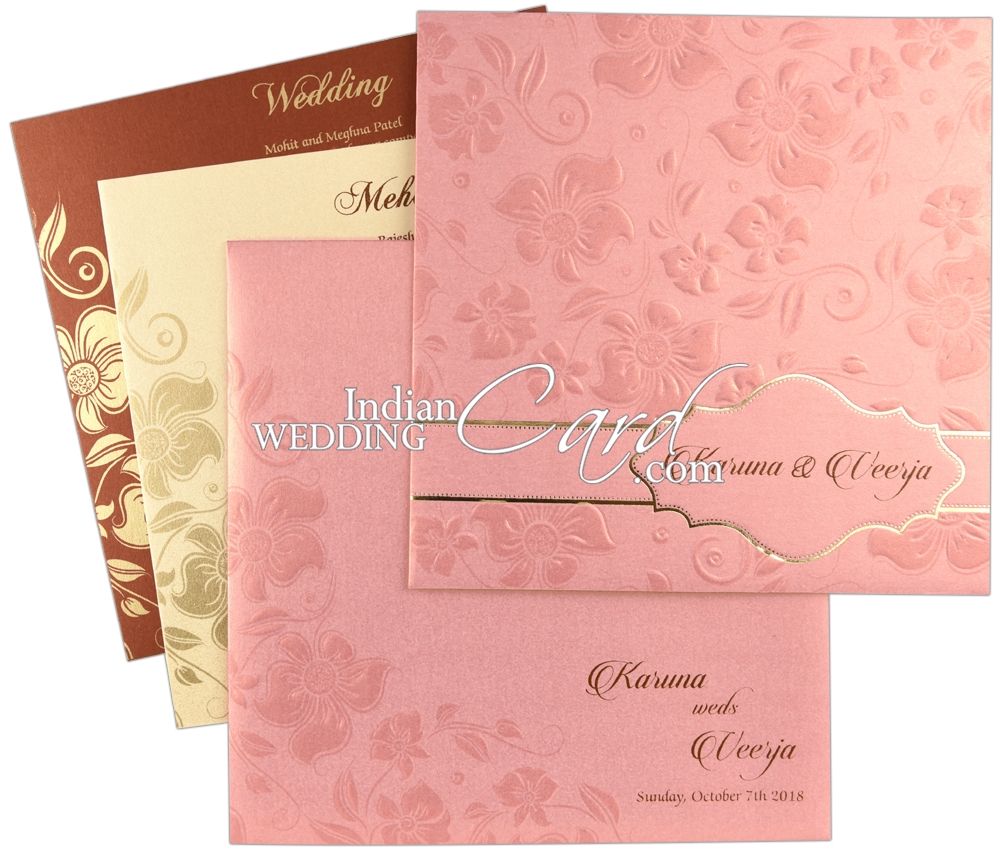 Apart from the theme cards suggested above, you can also go for others like Paisley theme, tree of life theme, box cards, foil cards, etc.
Tips while picking a theme wedding invitation card:
Before you select a theme wedding invitation card, you should take care of the following things:
Decide your budget in advance. It is always wiser to proceed according to planned budgets only so you don't overspend on anything.
Always order a sample before you buy bulk wedding cards. Sometimes, what you see may not look the same when you receive. There might be differences in color or appearance. Many online wedding card invitation publishers allow you to order a sample of the card before the final purchase.
Consult with your family and spouse-to-be, before finalizing the color and material. You cannot afford last-minute changes.
Ensure that there is enough timeline for publishing of cards. It's better to prepare in advance than to hurry just before rush hour.
Research about the current wedding invitation cards trend. A wedding happens once in a lifetime, so you definitely would like to be unique and special.
Have a clear idea of guests. Ordering on a rough estimate might be troublesome. Either you will fall short of cards or get printed in excess.
We suggest you start planning for your wedding in advance, even if it's a year ahead. This will help you in ensuring little to no blunders in the arrangements. You can easily find your perfect wedding invitation card online.