Pocket Invitations are an interesting modish way to impress your guests with a handy pocket-fold invite that is more ordered, sleek, and contemporary in the style of presentation. It gets you an on-purpose easy handout look and a more organized style than anything conventional. It forms a great alliance with different types of events and occasions to make a great novel option for invitation serving the modern social trends.
With that, a pocket-fold card offers you a great alternative for the customary invitations that least amuse and impress people nowadays.
How Does a Pocket Invitation Card Differ in Appearance?
As the name of the card suggests, it is created with folded panes and layers that work like pockets to the message insertions and greeting notes. With pocket invites you can choose to have more style options as these can be designed in many crafts, shapes, and patterns owing to their sectional and modular arrangement. This offers a lot of scope at design and creation, utilizing the various facets and folds of the card. Besides, it gets you to have more matter and work done on the invite as compared to the other formats of cards.
These are the cards that can keep all the types of cards together. So, you don't have to clutter the limited space of the conventional invites or do them separately. Like in the case of wedding, you can go with pocket wedding cards where you can put the RSVP card, save-the-date insertion, ceremonial invite, and the special messages together in one fuller and inclusive pocketed invitation theme.
While planning for a pocket invitation card you can pick from these popular styles:
Portable Pocket Invitation Cards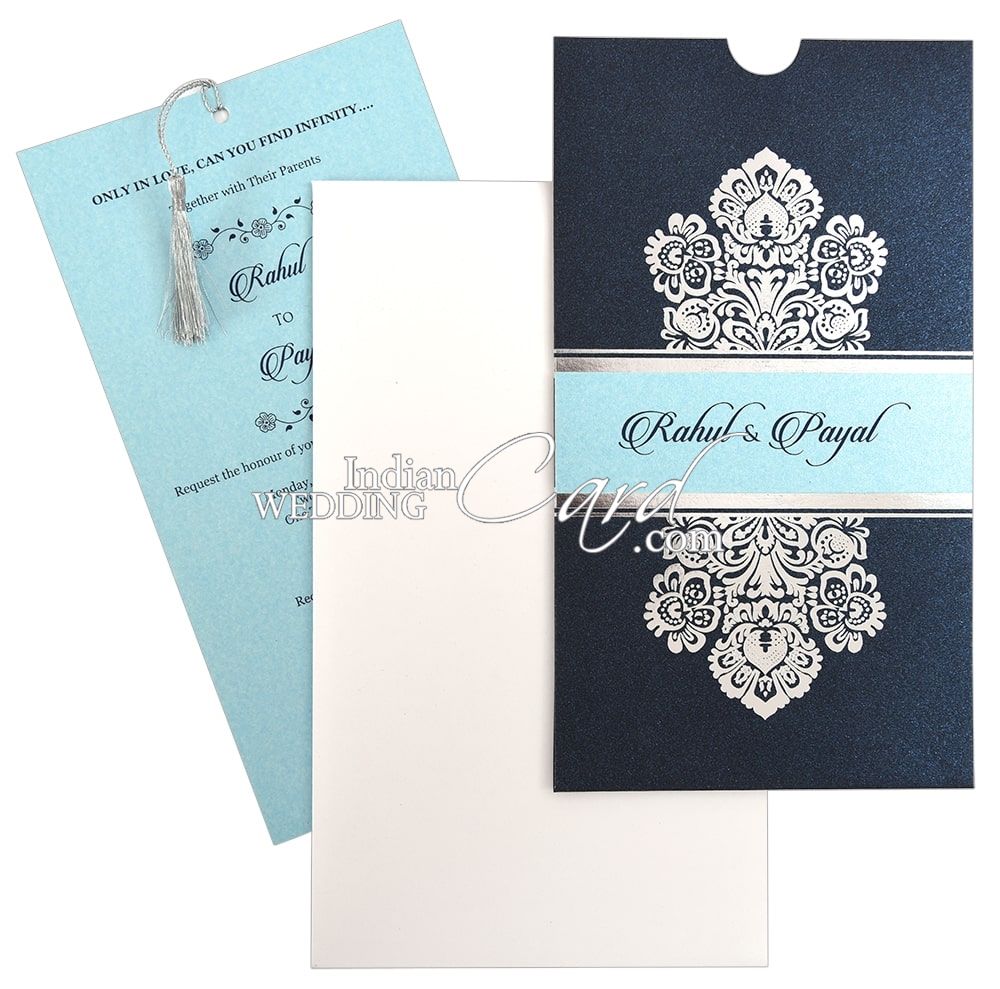 This type of pocket invitation carries a minimal design and has a compact appearance. This can simply arrange all the card pullouts together closely in a dense layout to offer a reduced-in-shape handy invite. Portable pocket invitation cards are available in various cute and cool designs that can hold different facias, finishes, embellishments, trims, closures, and craft forms.
There are limitless options to go with themes to fit in your purpose and idea of invitation. You can check the available designs online for DIY pocket invitations and get them created at home. For bulk invites you to have immersive options open with wedding card designers to help you go grand with your nifty piece of small invitation.
Bi-Fold Pocket Invitation Cards
When you have a more distinguished purpose in mind, maybe something related to the invitations for social ceremonies or wedding events – bi-fold cards get more relevant. As with them, you get a sizeable option that looks ideal for a formal family invite. This is where you get to feature comprehensive art options for a better choice of reception and visibility.
This can be folded both vertically and horizontally as per the design and craft preferences. When designed as a pocket fold wedding invitation, this can hold the embellishments, foils, and accessorized arrangements better in combination with different fabric and material options.
Tri-Fold Pocket Invitation Card
A tri-fold card is split into three parts separated by two creases. The parts are folded one over the other to compress into a one-third arrangement of the whole card layout. These pocket invites are available in different sizes and fold options. You get a different way of presentation and design achieved with tri-fold cards.
And there's a lot of more space for messages and display arts to support different themes of pocket style wedding invitations with these cards. With more pocket options across the spread, it can hold a larger number of cards and insertions and can serve you with more open and abundant choices for a big wedding event.
An All-purpose Invitation
Pocket invitation cards are making quite a statement as a modern wedding invite nowadays. It is equally a good choice for small events and celebrations like birthdays, housewarming, and baby showers where photos and messages can be inserted with the invite.
These are a great way to impress your guests with new choices for extending invitations. As these offer an unconventional option at art and design that is beyond the traditional invite options. Much relevant to the times these are more towards casual and purposeful designs and are being increasingly adopted by people at all arrays and extents of invitation.