Young couples these days are all about lending their unique blend of personality to their wedding plan. From the choice of theme to the selection of the invitation cards, every element of the wedding has a hint of their personas subtly combined in with it.
Wedding invites are usually one of the first things a couple must decide on before anything else. A good wedding invitation is one that encapsulates the theme of the wedding effortlessly. There is no dearth of ideas in the invitation card department any day with box scroll invitations, fabric cards, and embellished invites; there is a plethora of rare and beautiful options to choose from. Wedding destination, theme, favorite color, hobbies, dreams, and passions, there is just so much you can do with your invites.
Here are 10 wedding card invitation ideas for every couple out there. You can pick from any of these and customize it to suit your couple personality further as well.
Superhero Themed Invitation Cards:
All thanks to Marvel and DC, everyone nowadays has his or her choice of favorite superhero. Superhero wedding invites are great for you if you and your partner are crazy fans of any superhero, and your guests are very well aware of that.
It all comes down to F.R.I.E.N.D.S:
Clearly, there is no other sitcom in the history of television that can match the fan following of friends. Design a customized wedding invite based on everyone's favorite comedy series. You can borrow the signature font and styles from the show's creative to add the extra edge to your invite.
For the readers and bookworms:
Everyone loves a good book once in a while. And then there are those who cannot see beyond books. For all such couples, a card designed as a book with inserts resembling its pages will be a great idea.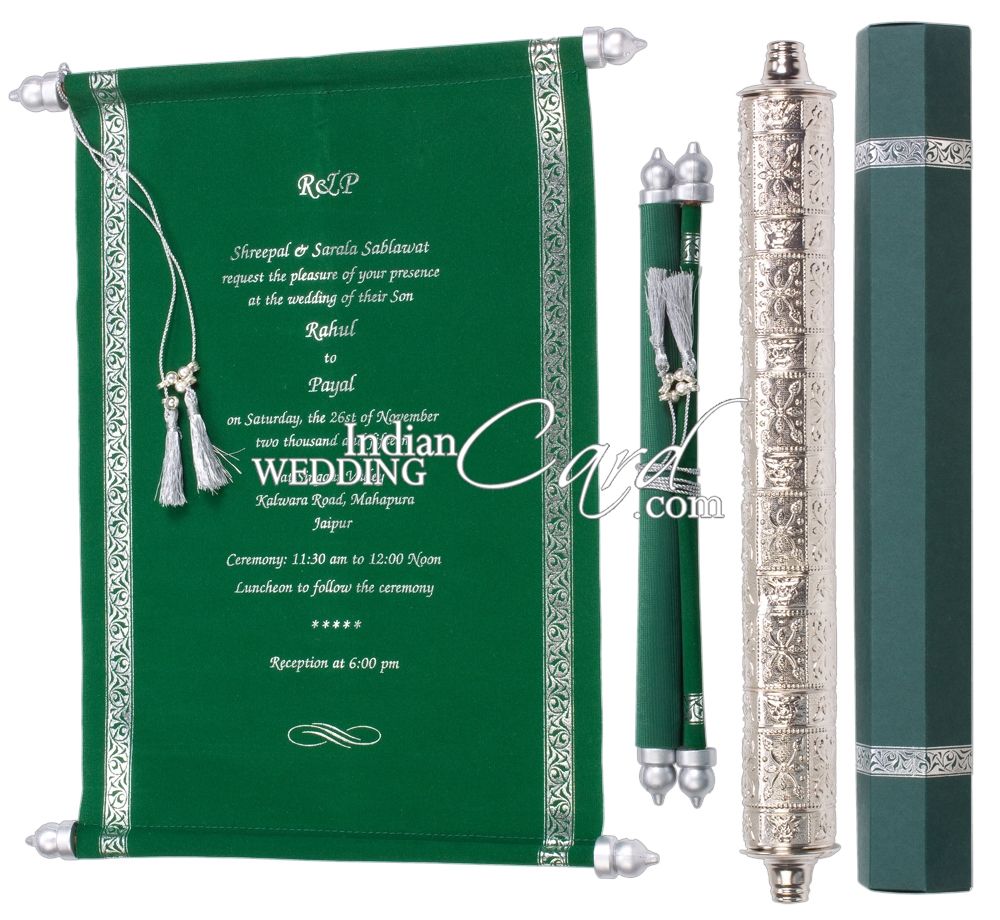 For The Hollywood Movie Buff:
Some couples love nothing more than spending quality time enjoying their favorite Hollywood movies together. For every couple like them, a Hollywood inspired card themed around their favorite film will be ideal.
They can customize the movie poster with their pictures and names.
For The Bollywood Movie Buff:
Everything for the Bollywood lover is the same as for the Hollywood enthusiasts, except that now there is a wider spectrum of choice in colors and style. Bollywood is all about loud music, blinging stars and bold colors. You can design your card around your favorite characters of all times, or iconic Bollywood movie characters that will never go out of style.
The Pop-Up Loving Couples:
As kids we all used to enjoy reading pop up storybooks and receiving some of the prettiest pop up cards on our birthdays. All thanks to some pop-up loving card designers out there, now there is an option of creating wedding invites that have special effects.
Special effects are surely a unique way to add a 3-D appeal to your card. They literally make your card stand out.
Box Scroll Invitations:
Invitations rolled into a scroll and secured inside a box, make for one of the most beautiful and royally Indian cards. Scroll invitation cards hint at royalty and grandeur that the wedding guests can look forward to at your wedding.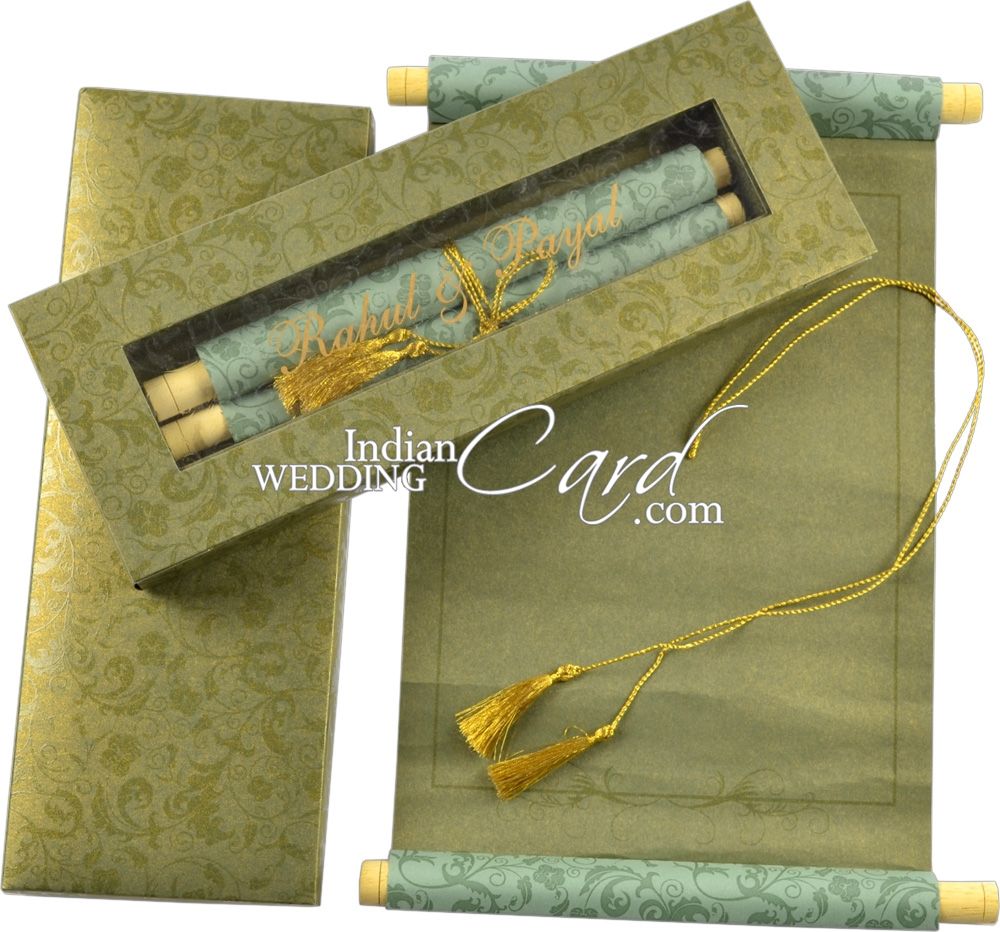 The Rustic Homebody Theme:
Yes, this is the age of all things rustic, all things rare. The rustic theme has been on the go since the past few years, and will surely stay strong for a few more. The use of twine ribbons, unrefined fabrics like jute, twills, etc. can lend a unique countryside element to your rustic themed invites.
The Floral Fiasco:
No one can go wrong with floral. Floral is also a lesser-used design for wedding invitations. Ditsy floral in pastel or bright shades over a light background is a must try card trend.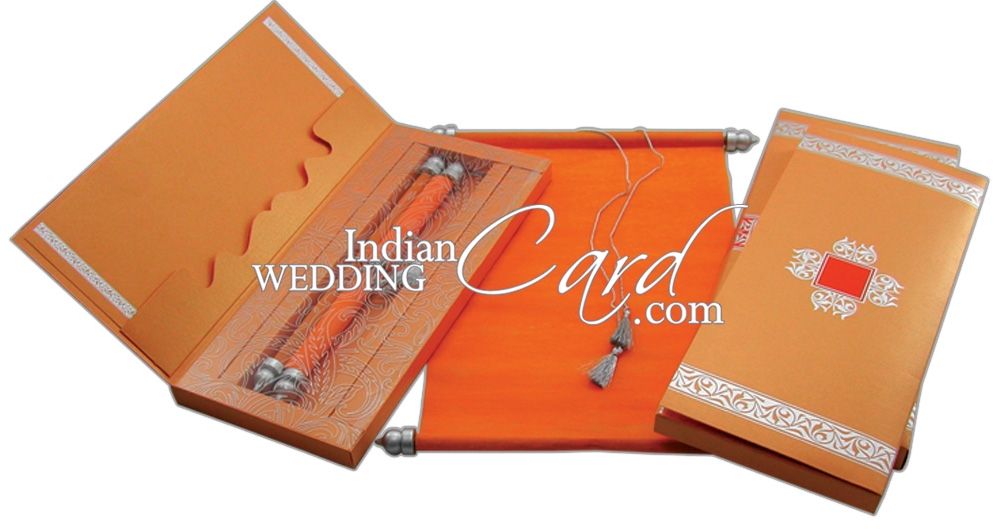 Destination Themed Cards:
If you are getting married on the beach, ensure that your card is embellished with lovely shells from the sea. And if you are getting married in a palace, decorate your card with deep luxurious colors and gold highlights that lend a touch of regality to them.
These are the ten best ideas out of the many hundreds ruling the wedding invitation scene this year. We hope you found the inspiration that you had been looking for in here. Good luck and congratulations.